By Peyton Mann, Age 16
These ten women are changing the world today. Some are writers, actors, filmmakers, former first ladies but all of them are feminists. This list is in no way complete, these women are the people who I admire and who some might not have thought of before. I hope this list inspires you like the women on it inspire me.
1. Emma Watson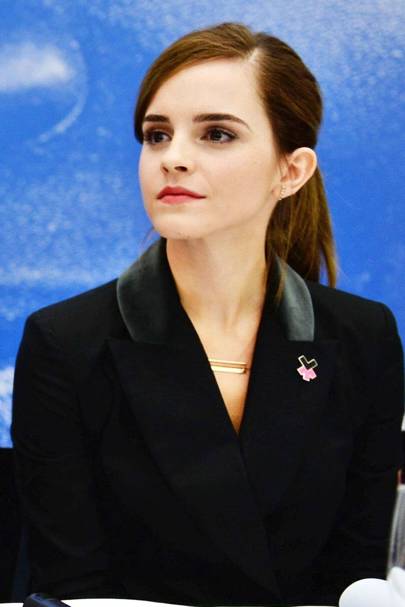 http://www.vogue.co.uk/article/emma-watson-interview
Emma Watson has been a courageous, amazing woman on and off screen. She's played an intelligent witch and a strong princess. Off screen, she has been fighting for gender equality. At the UN Women summit in 2014, she delivered a speech and introduced a new campaign called "He For She", inviting everyone to join the cause to stop gender inequality. Watson also hosts a feminist book club through GoodReads called Our Shared Shelf, full of biographies and autobiographies by women about women.
2. Michelle Obama
http://superselected.com/michelle-obama-covers-instyle-magazine-october-2016/
Michelle Obama was one of the best FLOTUS that America has ever had. She didn't stand idly by while her husband did all the work. She started her own initiatives and fought for what she believed in. She started the initiative Let Girls Learn which helps girls get a quality education all around the world. She is a big advocate for intersectionality and female empowerment, she believes "the women we honor today teach us three very important lessons. One, that as women, we must stand up for ourselves. The second, as women, we must stand up for each other. And finally, as women, we must stand up for justice for all".
3. America Ferrera
http://www.vivala.com/inspirational-women/america-ferrera-immigrant-ig-post/7191
America Ferrera was one of four women to win the Feminist Majority Foundation's Eleanor Roosevelt Award for Global Women's Rights in 2016-  and she definitely deserved it. Not only does she champion women's rights but also immigrant's rights. At the Women's March in Washington, D.C. she spoke about how both are necessary and important.
4. Sophia Bush
http://www.instyle.com/celebrity/sophia-bush
Sophia Bush is an incredible actress but she's also an incredible person. She builds schools in developing countries and works with Michelle Obama to spread awareness of the 65 million girls who are not going to school. She partnered with EcoTools (an eco-friendly makeup brand) to raise money for the Girl Project, a nonprofit which helps send girls to school. If you follow Sophia on Instagram or Twitter, you won't regret it. You'll get to see her #MondayMantra every week, her adorable rescue dogs, and see her celebrate equality for all (and not back down from taking a stand).
5. Malala Yousafzai
https://www.360nobs.com/2015/02/chibok-girls-would-have-been-found-if-they-had-rich-parents-malala-yousafzai/
Malala Yousafzai is one of the bravest people I know of. All she wanted to do was go to school, but in Pakistan (where she lived), the Taliban had control, and they feared gender equality so they shot Malala. When she survived, she didn't stop defending the rights of girls and their education. In her book, I Am Malalaand movie, He Named Me Malala, she expresses her belief that "one child, one teacher, one book, one pen can change the world". In addition to all of this, she is also the youngest person ever to win the Nobel Peace Prize.
6. Rowan Blanchard
http://www.etonline.com/news/180237_girl_meets_world_star_rowan_blanchard_identifies_herself_as_queer_does_not_like_labels/
Rowan Blanchard is a Disney star, which means she's always in the public eye. In 2015 she wrote a powerful essay on intersectional feminism. She came even more into the spotlight in 2016 when she came out as queer. At the Women's March in LA she spoke about how women's rights, LGBTQ+ rights, and civil rights are all a part of America. Rowan has shown us that even if you are not able to vote you can still use your voice.
7. Chimamanda Ngozi Adichie
https://storify.com/947/947lovesafrica-international-superstars
Chimamanda Ngozi Adichie is a powerful writer. Her books, We Should All Be Feminists, Purple Hibiscus, and more, have impacted many. She is even featured in Beyonce's Flawless music video. Her TED talk, about the importance of feminism worldwide, is a mix of humorous and powerful, true stories.
8. Gal Gadot
http://www.929.org.il/page/215/post/6154
Gal Gadot not only plays one of the most badass characters of all time (Wonder Woman, who she played while she was five months pregnant) but she is badass in real life. When she was 20, she served in the Israel Defense Forces as a combat trainer. She is also an avid feminist, and clears up any rumors that Wonder Woman isn't a feminist in her interview with Glamour:"There are such misconceptions as to what a feminist is. Feminism is about equality. I want all people to have the same opportunities and to get the same salaries for the same jobs". Gal proves that not all heroes wear capes.
9. Gina Rodriguez
http://www.irishmirror.ie/showbiz/celebrity-news/golden-globes-2017-worst-dressed-9588071
https://www.washingtonpost.com/lifestyle/how-gina-rodriguez-sees-herself/2015/10/01/93e2488c-5aff-11e5-b38e-06883aacba64_story.html?utm_term=.06f7437507ec 
Gina Rodriguez is another actress who is also an activist. She's teamed up with LUNA bars to end the gender wage gap. She started the We Will Foundation designed to fund arts programs for women from low-income backgrounds. She's a partner in Naja, a lingerie company meant to empower women. On her Instagram, every week she has #MovementMondays which celebrate the diversity of actors, writers, directors, and other people in the film industry.
10. Shonda Rhimes
http://www.npr.org/2015/11/11/455594842/shonda-rhimes-on-running-three-hit-shows-and-the-limits-of-network-tv
Shonda Rhimes might have killed off your favorite character but no one can deny that she's built an empire. With her booming success in television (Grey's Anatomy, Scandal, How To Get Away With Murder), she's written many stories and made many characters. She's on this list because she writes are flawed, complex, realistic characters, which is concept that is sometimes unusual. She knows that "it's not trailblazing to write the world as it actually is. Women are smart and strong. They are not sex toys or damsels in distress. People of color are not sassy or dangerous".
 Now go have fun changing the world!
Do you like this post?