By Adriana C., 14
I was raised in a household with all women, so I remember knowing what a period was from a pretty young age. It was never, and still is not, a taboo subject in my house. I knew my mom had a period, I knew my older sister had a period. When my time came, I knew exactly where to find the pads and could talk about my period without embarrassment. 
Others are not so lucky. In today's society, and throughout history, women and girls have been made to think that their period is something to be ashamed of. Most men become very uncomfortable around the subject of menstruation, only using the topic as a way to invalidate a woman or belittle her. Men, I will break it down for you: 
Your mother has a period. Your sister has a period. Your girlfriend has a period. Many male-identifying people have periods. Just because you do not experience something yourself, does not mean you should be ignorant about it. And it definitely does not mean you should make someone feel ashamed for having a period.
Having a period is as natural as anything else that happens in the bathroom. Sanitary products are as necessary to have in the bathroom as toilet paper is. The majority of states (nearly 40) in the U.S. still tax tampons as luxury items. Most of our government has yet to realize that bleeding out of your vagina once a month for a week is not a luxury. 
But there is a glimmer of hope arising. On June 21, 2016, New York City became the first American city that will provide free pads and tampons in school bathrooms, correction facilities, and homeless shelters.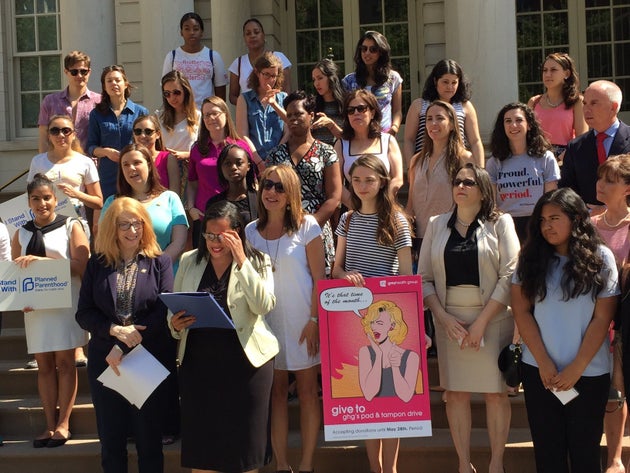 Council member Julissa Ferreras-Copeland (front, in black) stands with dozens of women on the steps of New York City Hall announcing the expected passage of a new bill bringing free tampons to schools, prisons and shelters, on June 21, 2016. (via The Huffington Post)
Does this signal the beginning of the end of the stigmatization of menstruation? Perhaps. We still have a long way to go. But it is a step in the right direction. It opens up the conversation, and recognizes the importance of making menstrual hygiene products accessible to women. No girl, woman, or any uterus-owner should be in the position where they are without basic health care products. With this new tampon program in New York, NYC students will no longer have to hide their tampon up their sleeve on the way to the bathroom, or have nosy (usually male) school teachers question why they need to take their bag into the bathroom with them. 
Some people are open about their periods, others prefer to keep it to themselves. While it is true that people being very secretive about their period may be in part due to the shame surrounding menstruation, this is not always the case. One person may prefer to keep their period private, while another may like to talk about it. It is equally important to allow people to talk freely about periods, as it is to respect one's privacy if they don't want to be as vocal about it. 
We will not just stop now that New York has made this progress. We will continue to fight to normalize the period. We will continue to fight for girls' rights. We will be heard.
Brava, New York. We hope other cities will follow in your footsteps. 
Do you like this post?